The Gnostic Mass is a eucharistic rite celebrating the creative human will as the expression of the highest good. Although similar in visible structure to the ceremonies of the Roman and Orthodox Christian churches, this vibrant and dramatic rite stands apart as it celebrates the sublimity of the operation of universal forces, which move and infuse every person directly and uniquely. This ceremony serves as a dramatic inspiration for religious reverie for the congregation. It does not claim to intercede for a congregation that must submit to its authority in order to receive the blessings of a higher power vicariously through a clergy. Each individual is their own star, beholden to no other deity than its own perfect glory. The Gnostic Mass is performed to lend beauty, intent, and tradition to that process.

​The culmination of the Mass is the consumption of the sacrament as prepared by the ritual officers during the ceremony. This sacrament consists of a cake of light and a small goblet of wine. Each participant stands in turn before the shrine, consumes the host, proclaiming: "There is no part of me that is not of the gods."

The Gnostic Mass also forms the foundation of many of the church's sacramental rites such as baptism, confirmation, marriage, and ordination. You can find the full text of the ritual on the website of our national section.

Parents, please note that while our celebrations of the Gnostic Mass welcome children of any age as congregants, the ceremony does include some nudity. While we feel that this is done tastefully and with symbolic import, we would be remiss to have this facet of the ceremony appear as a surprise. It's Portland. Your neighbor is probably out gardening in the nude, even though it's February. But the combination of children, religious ritual, and nudity deserves a heads-up. Also see our FAQ for other questions regarding Mass.

Powered by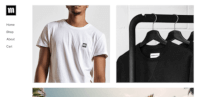 Create your own unique website with customizable templates.